| | |
| --- | --- |
| Brand | ‎LG |
| Model | ‎MC2146BP.DBKQILN |
| Capacity | ‎21 litres |
| Volume Capacity Name | ‎21 litres |
| Installation Type | ‎Countertop |
| Part Number | ‎MC2146BP |
| Special Features | ‎Programmable, Auto_cook, Control_panel_lock, Defrost, Interior_light, Self-cleaning, Timer, Turntable |
| Oven Cooking Mode | ‎Convection |
| Colour | ‎Black |
| Wattage | ‎1860 Watts |
| Defrost System | ‎Defrost |
| Door Orientation | ‎Left |
| Material | ‎ABS |
| Included Components | ‎Microwave oven, Owner's manual, Cook book, Shelf, Glass tray and Rotating ring |
| Batteries Included | ‎No |
| Batteries Required | ‎No |
| Manufacturer | ‎LG |
| Country of Origin | ‎India |
| | |
| --- | --- |
| Item Weight | 18 kg 600 g |
| Item Dimensions LxWxH | 47.5 x 28.5 x 46 Centimeters |
Performance Features
| | |
| --- | --- |
| Preheat | |
| Timer | |
| Defrost | |
| Power Levels | |
| Other Performance Features | Auto Defrost Options, Increase / Decrease Function |
Cooking Features
| | |
| --- | --- |
| Auto Cook Menu | |
| Auto Cook Menu Available | |
| Auto Indian Cook Menu | |
| Cooking Modes | |
| Other Cooking Features | Tandoor Se: 4, Sweets Corner: 14, Health Plus: 16, Beverages, Combination Cooking, Tea / Dairy Delight: 4, Defrost Non Veg, True Baking, Childs Favourite: 14, Soup: 15, Utility Corner: 7, Defrost Veg, Indian Cuisine: 34, Fast Cook, Chatpat Corner: 10, Paneer Curd: 4, Kids Delight: 19, Quick Start, Quick Defrost, Two Stage Cooking, Bakery Menu: 5, Continental Menu: 13 |
Body And Design Features
| | |
| --- | --- |
| Design | |
| Cavity Material | |
| Turntable | |
| Turntable Material | |
| Interior Light | |
Convenience Features
| | |
| --- | --- |
| Alarm | |
| Child Lock | |
| Racks & Trays Available | |
| Other Convenience Features | Keep Warm, Custom Cook, Quick Menu, Cooking Completion Alarm, Fermentation |
Power Features
| | |
| --- | --- |
| Power Output | |
| Power Requirement | |
| Power Consumption - Grill | |
| Power Consumption - Convection | |
| Power Consumption - Microwave | |
| Other Power Features | Watts Combination (Input): 1860, Microwave Output: 800 W |
Additional Features
| | |
| --- | --- |
| Technology Used | |
| Other Features | Control Type: Membrane Type, Light Disinfect, Next Step Guide |
Dimensions
| | |
| --- | --- |
| Width | |
| Height | |
| Depth | |
| Turntable Diameter | |
| Weight | |
Product Description
Delicious paneer parathas with sumptuous curd - sounds like a satisfying breakfast, doesn't it? Well, you can prepare such food items easily when you have this 21 L convection microwave oven from LG. It comes with an Autocook Menu that also includes dishes specifically for the diet conscious people. Its Quartz Heater facilitates faster cooking and enhances the safety of the appliance.
Something New to Relish Everyday
With a pre-set Autocook Menu (151 dishes) in place, you can surprise your loved ones with a new meal every day. All you have to do is click the dish you want to cook and then press the 'Start' button.
Uniform Cooking with Stainless Steel Cavity
This microwave oven's Stainless Steel Cavity paves the way for better reflection and uniform heating, thereby ensuring that your food is cooked evenly.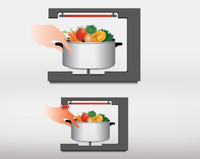 Quartz Heater for Enhanced Safety
The concealed Quartz Heater makes this appliance safer to use by eliminating any scope for hand injuries. It also facilitates faster cooking to help you prepare larger portions easily.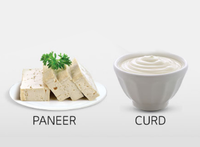 Home-made Paneer and Curd
You don't have to rush to a supermarket anymore. With this microwave oven, you can prepare delicious paneer and curd at home easily.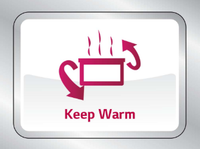 Just a Little Warmth
You can depend on the Keep Warm function to keep your food at the right temperature for up to 90 minutes.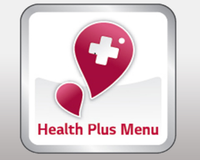 Ideal for the Health-conscious People
The Healthplus Menu includes a variety of healthy dishes that will fit the bill perfectly for the health and calorie conscious people.




Autocook Menu

Auto cook menu comes with preset menu. Just select the dish you want to cook, press 'start' and get something new. *Number of menu will vary model to model.

Stainless Steel Cavity

Stainless steel cavity enables better reflection and the uniform heating ensures a better and even cooking.

Quartz Heater

The concealed heater eliminates the risk of any form of hand injury. Faster but also safer to use, it gives you an advantage of making large portions in one go.
Paneer/Curd

With LG all in one microwave oven, now you can prepare delicious paneer and curd at home.

Keep Warm

Keeps food at just the right temperature for up to 90 minutes.

Health Plus Menu

Comes with variety of autocook menu specially designed for health and calorie conscious people.
Attractive Floral Pattern
Attractive floral pattern beautifies your kitchen interiors and adds a hint of color to it.
Microwave Oven Recipe Book
Learn to cook exotic, delicious yet simple to make recipes across India.
*The image of the product are for illustration purpose only and may differ from actual product.